Never ones to rest idle, our staff have been busy creating resources to help teachers easily incorporate Ideaphora into their lessons. Educators can find video tutorials about using Ideaphora's features, lesson plans and examples of student maps – and more coming soon! – on our new Teacher Resources page.
Several brief videos are available to help teachers get started with Ideaphora and using digital concept mapping with their students. The videos illustrate how to add images to maps, set keyword panel preferences, use graphic organizer templates, and more helpful tips.
To see Ideaphora in action, we've added lesson plans and examples of student work. These include lesson that align with Common Core ELA and Next Generation Science Standards and feature classic graphic organizer models. Once signed in, teachers and students can access all the resources needed for these lessons, such as map templates and content, in the Ideaphora platform. We welcome your feedback on these lesson plans, and we're always looking for more inspiring ideas. Please share your lessons and student activities with us by contacting us at info@ideaphora.com.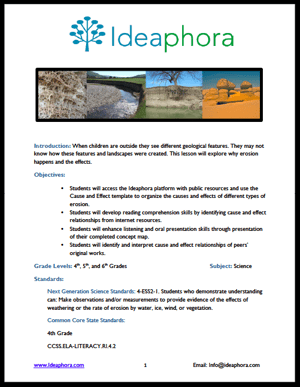 Keep watch for more resources as we continually develop new teacher materials and update our site. Don't have an Ideaphora account? Sign up today for a free trial or enroll in our Classroom Pilot program.