Ideaphora now has over 17 thousand pieces of vetted-open content available for educators and students to use in creating their concept maps. Our unique granular search allows learners to explore resources not only by title or tag but down to the level of keywords and key phrases we generate automatically.
For example, our semantic analysis engines identify keywords and phrases from YouTube videos that can then be searched on a much finer level than on YouTube itself, or other content repositories. In the example below, the learner wants to add some depth to their map on endangered species consumption by adding details about pangolins. Searching brings up resources with "pangolin" in the title, but we can dig deeper into content by searching Ideaphora auto-generated keywords and phrases as well. The results now include many resources, including an educational video about animal defenses, an area the learner may be specifically interested in. Our interface will then take you to the exact timestamp pangolins are mentioned in the resource. Clicking view, the learner can preview the content. They can then choose to add it to their existing map or start a new map.
This allows the learner much greater flexibility and efficiency in curating appropriate content for their projects. Learners are not hindered by the inconsistent resource naming and the limited tagging that occurs with most open content. It also allows them to explore different angles on how the content they search is interconnected with other areas of interest. This "search-curation" function acts as the perfect springboard to graphic organizing projects as the learner makes smart decisions relating to project appropriate content.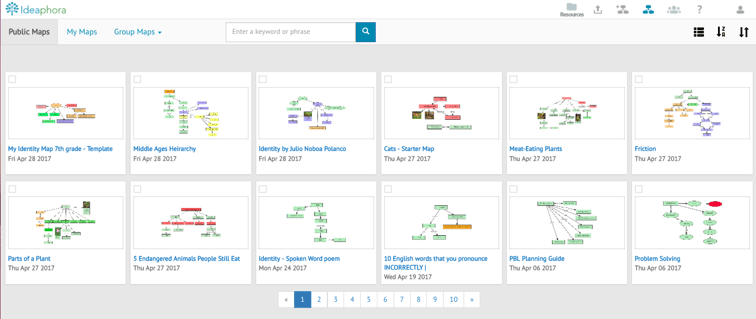 There are now over 200 classrooms piloting Ideaphora. We have combined efforts with teachers to share over 100 public Ideaphora maps as examples that are also available in all our versions.
These maps can serve as lesson starters, or help generate ideas for applying graphic organizing to your lessons. Take a look here for free!
Thanks for taking a look,
Mark Oronzio
CEO & Co- founder